Welcome to day 1 of a new series "12 Days of Christmas Crafts". Yep. 12 days...right in a row...all Christmas. :) Excited? I can honestly tell you I have never decorated for Christmas this early. It's a little bit of a change. My husband is having more problems with it than I am though...I've already transformed our front room into a winter wonderland. It's marvelous. I'm going to still keep our yearly tradition though and not put up our big tree until Thanksgiving night. So, until then...you'll get to see a lot of my front room :)
I've joined 12 other wonderful bloggers in this grand event, so stick around until the end of this post to see all of their crafts for our First Day of Christmas! By the end of these 12 days, we'll have 144 wonderful Christmas craft ideas :) ...That's a ton more than I can even think about, especially since I maybe only get around to doing like 1 or 2 a year most years.
I love my jute Christmas trees that I made a few years ago, so much so that I decided I needed some more of the same. But, this time I decided to use some chunky yarn. I'm not a crocheter or knitter, so I had no idea yarn could come like this. When I saw it, I fell in love. I have a ton left over so I'm thinking some fun projects are in my future :)
Supplies:
Varying height foam cones (found at Michaels)
Yarn (found at Michaels)
Beaded garland
Hot glue gun
This is truly an easy project, even my 1 year old helped (of course not with the glue gun). To start off the piece, I just put dots of glue all along the bottom edge and secured the yarn to it.
Then I twirled the cone and wrapped the yarn around it. I glued mine like once or twice on the way up just to make sure it would stick and not slide anywhere.
When I got to the top, I just put a good dab of glue on the top flat part, and circled the yarn onto it.
Beautiful :)
But, of course, I had to add some fun bling to it. So, I grabbed some old beaded garland and cut off some sections.
I then just bent them a little and stuck the end right into the foam. If the balls were being a little stubborn and not staying where I wanted, I just put a dab of hot glue on them then pressed them down.
Easiest Christmas craft ever :)
Check out all of these wonderful crafts for more inspiration! And be sure to check back tomorrow for our 2nd Day of Christmas Crafts!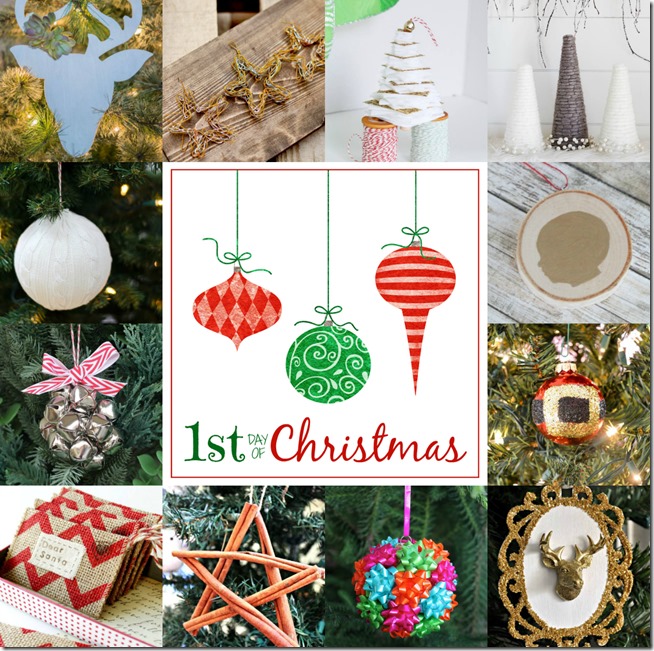 *Some of the products used in this post were purchased with a gift card which I received from Michaels.