This post contains affiliate links.
You guys! How is it already this far into November? We have a Christmas countdown already going in our house and we are so close to being in the 30's! My kids are freaking out just a little bit. I realized awhile ago about how fast this time of year flies by, and I have to mentally step back and not look forward to anything and just enjoy the now. When I put a day or event ahead and that's all I can think about, I realize I miss those special moments in between and lose them in all the hectic chaos that this season brings. That's why I like decorating my house early for the holidays. I just get it out of my way, and then I can sit back and enjoy those little moments...enjoy the "now".
This week, I'm joining the lovely Carrie from Lovely, Etc and some other amazing blogging friends to share some early Christmas inspiration with the Very Merry Christmas Home Tours. You can see all of their tours at the bottom of my post :) But for now, I'm sharing my dining room Christmas tour! It's a little weird sharing this room as one of my first Christmas tours. It's usually one of the last rooms decorated for the holidays. There's just so much that goes into it, but this year, everything just fell into place perfectly. I would say effortlessly...but there was a little :)
I've been wanting to use my candlestick collection in here for the past few seasons, but I felt like it only worked well with Christmas. I also took down my gallery wall. I wanted to add my collection of cathedral windows, but it just looked too busy with all the candlesticks. Then I remembered my window frames. I put them up so this angle represented a Christmas tree...can you see it?
I went completely neutral in here with pops of frosted greenery. I then added these cute plush plaid pillows I got from Home Goods to the end chairs.
My dining table has multiple uses, and only used like 1% of the time as an actual table to eat on. That being said, place settings don't last long on here. They look pretty for a minute, then give me anxiety with the clutter...then add on all the papers, crayons, books, paint, playdoh, etc...you get my drift. One of these days when I host a super fancy dinner party, maybe I'll have these out for awhile :)
To get this look, I used a charger from Kirklands, and placed a white plate on top I received as a hand-me-down from my mother in-law. I then placed a folded napkin on top of the plate, folded the top under the charger, and kept the bottom free. Placed a bowl on top of that, and finished it off with these cute place-tag holders I got from Hobby Lobby. For the names, I just cut out small pieces of linen and scrolled on names. I love the tattered look to them.
As for the tablescape....this is sadly only a fraction of all my candlesticks. You can't tell, but I did hold back on putting them all out :) Let's just say, I'll be ready for when the power goes out! These are all from Hobby Lobby. I then added a little garland through them to fill in the gaps and add some texture and frosted greenery.
As for my buffet, I kept it pretty light in color, and used my mainstays. I added a few pine cones in top of the tiered tray. I kept my faux aged terracotta pots on here...plus, I think they look great as little pots for tabletop Christmas trees which you'll see in my other room tours.
After my photo shoot from last years Christmas decorations for American Farmhouse Style magazine, I have a multitude of extra little Christmas trees, so I added a couple on here for a festive look. (PS. That issue is out right now! Go check it out :) )
To soften up the window frames, I swagged some frosted garland. I kept it interesting by just doing two and not all three. The bottom frames are from Home Goods. They were actually picture frames, and I just took out all the glass. The top one is from Kirklands.
I think this years decor in here is one of my faves so far. I didn't have to buy anything, just used what I had on hand (besides the pillows which I bought for fall). That's pretty much the best feeling when you realize you didn't have to spend much!
I can't wait to share with you the rest of my rooms! I had so much fun decorating this year..even though I drug my feet doing most of it...Once again, I'm glad that it's over! Now I get to enjoy the little moments with my kiddos.
As promised, here are the links to all the other tours going on this week with the Very Merry Christmas Home Tours. Give them all some love :)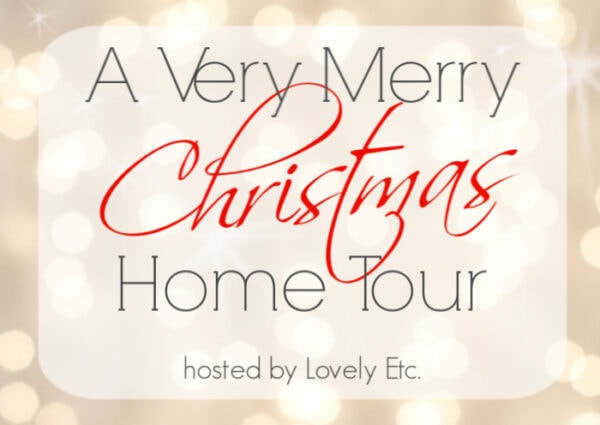 Disclosure of Material Connection: Some of the links in the post above are "affiliate links." This means if you click on the link and purchase the item, I will receive an affiliate commission. Regardless, I only recommend products or services I use personally and believe will add value to my readers. I am disclosing this in accordance with the Federal Trade Commission's 16 CFR, Part 255: "Guides Concerning the Use of Endorsements and Testimonials in Advertising."