So the weather here is a tricky thing. We've had about three days of sixty degree weather, and tomorrow….its going to snow and the high is going to be lower than today's low. Ugh. I can't wait for the good weather to actually stick around so I can get more stuff done around here. I feel like every night I'm camped out by the fireplace trying to get warm....just wastin' time.
Well, until then, here is a good winter friendly project. I had to make a ton of these for my sister-in-laws bridal shower I mentioned last week. One great thing about having such big parties at my house is that it got my butt in gear, and I finished a lot of projects I had been wanting to get done. But alas, there were more than a few that I didn't have time to do…so, I guess I'll have to throw another party so they'll get done, huh?
J
Okay, so the project? Travertine coasters!
I got a pack of about 10 travertine tiles at Home Depot for under $4 and some felt from the craft store to make these babies.
Next, I used a stencil and metallic paint that I already had. In order to get the stencil straight, I used a ruler and marked the midpoint at the top and bottom of the tile then drew a light line connecting the marks. I lined this line up with the middle of the stencil. Worked perfect every time! …..until I put the clear coat on BEFORE I erased the lines……DUH!!! Oh well. Just don't look to close….and hopefully no one else will. Lol.
Next I drew six squares across the felt piece and cut them a tidbit smaller than the tile.
I just glued these on to the back of the tiles with some simple craft glue
J
use what you have, right??? Well, it works and they are still on today. That's some tough glue!
Looks expensive! But they really only cost about fifty cents each. And theeeey aaaare traveeeertine
J
They are cheap....and easy to make! I made all of these in about thirty minutes.
I'm just going to put this out to the universe right now..."Good weather, good weather...no snow, no snow."
J
Hopefully that'll work.
Have fun crafting!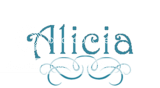 Linking up to:
http://www.justagirlblog.com/
http://www.findingfabulousblog.com/
http://romantichome.blogspot.com/
http://www.remodelaholic.com/